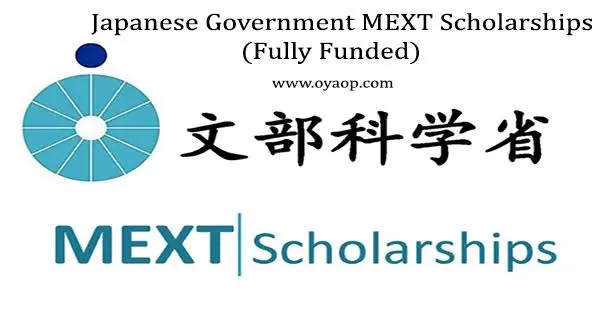 Goodnews to every student who has been aspiring to study at GRIPS, The Japanese Government (MEXT) has Fully funded a scholarship program for exceptionally qualified candidates who have been accepted for study at GRIPS.

Kindly be aware that International students applying for the Young Leaders Program at GRIPS can can apply for the Japanese Government (MEXT) Scholarships. Scholarships are allocated on a competitive basis and only a limited number of scholarships are available. Candidates have to be overseas students that are recommended by Japanese Embassy/Consulate General, University, or Authority.
The Young Leaders' Program (YLP) aims to contribute to cultivate future national leaders in Asian and other countries, to contribute to establish friendly relationship among various countries and to improve policy planning activities by forming a network among national leaders through deepening their understanding of Japan. The YLP is one of the Japanese Government (MEXT) Scholarship Programs.
Host Institution(s):
National Graduate Institute for Policy Studies (GRIPS)
Level/Field(s) of study:
Master of Public Administration or Master of Public Policy
Number of Scholarships:
Not specified
Target group:
The School of Government focuses on national policy-making and accepts students from 29 countries:
P. R. China, Rep. of Korea, Indonesia, Malaysia, Philippines, Singapore, Thailand, Brunei, Viet Nam, Laos, Myanmar, Cambodia, Mongolia, Kazakhstan, Kyrgyz Republic, Turkmenistan, Uzbekistan, Bangladesh, India, Pakistan, Sri Lanka, Australia, Hungary, Czech Republic, Slovakia, Poland, Bulgaria, Romania, Turkey.
The School of Local Governance focuses on enhancement of local governance and government to respond to various regional issues in such areas as education, health, social welfare, and local development. It accepts students from 20 countries:
P. R. China, Rep. of Korea, Indonesia, Malaysia, Philippines, Thailand, Viet Nam, Laos, Myanmar, Cambodia, Mongolia, Kazakhstan, Uzbekistan, India, Pakistan, Turkey, Hungary, Czech Republic, Poland, Romania.
Scholarship value/inclusions:
The scholarship award provides for a monthly stipend of 242,000 yen per month (rate in FY 2020; amount is subject to change) to cover living expenses such as food, clothing, and other daily expenses, as well as accommodation, transportation, medical treatment, insurance, and various miscellaneous expenses related to the study at GRIPS. This stipend is fixed and cannot be increased to cover family members. The scholarship also covers university application fee, admission fee, and tuition.
Scholars will be given an economy-class air ticket from their home country to Japan upon enrollment at GRIPS and an economy-class air ticket from Japan to their home country upon completion of their studies at GRIPS.
Eligibility:
The YLP is open to young public administrators and government officials who are expected to play active roles in the future as national leaders in their home countries. A minimum of three years of full-time work experience (five is preferable) in the field in the applicant's home country is a prerequisite for admission to the program
Admission to the YLP requires a bachelor's degree or its equivalent from a recognized, accredited university of the highest standard as well as certifiable health. The applicant should be under 40 years of age as of 1 October, 2021; should be proficient in English with a TOEFL iBT score of 79, IELTS Academic score of 6.0 or equivalent and must be able to obtain a Student visa prior to arrival in Japan.
Application instructions:
All application procedures for Japanese Government (Monbukagakusho: MEXT) Scholarships are conducted through Japanese embassies, consulates in your countries, or recommending authorities in the eligible countries. See the official website (link found below) for details about the recommending authorities in your country. The application deadline varies so applicants must check with their Japanese embassies for the submission date to the embassies.
It is important to read the 2021-22 YLP Brochure and visit the official website (link found below) for detailed information on how to apply for this scholarship.
Website:
Official Scholarship Website: https://www.grips.ac.jp/en/education/inter_programs/leader/