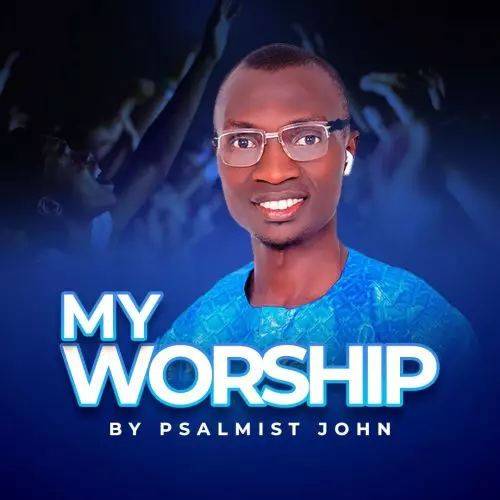 Audio Download My Worship MP3 by Psalmist John Check-Out this amazing brand new single + the Lyrics of the song and the official music-video titled My Worship by a Renowned and anointed Christian / Gospel singer and recording music artist Psalmist John whose mission is to be a blessing many people through kingdom music.
Song Title: My Worship
Artist: Psalmist John
Genre: Gospel
Released: 2023
Duration: 04:42
My worship is a song that was birthed out of intimacy with the holy ghost, worship is the only thing God can't do for himself so we as his children are expected to worship him at all time, to thank him for what he has done for us, and what he will do, and worshipping him is also a way to express our love for him. As you continuously listen to this song, it will bring you more connected to God In Jesus name. Amen!!

Stream and Download this amazing mp3 audio single for free and don't forget to share with your friends and family for them to be a blessed through this powerful & melodius gospel music, and also don't forget to drop your comment using the comment box below, we look forward to hearing from you. Thanks!! . #GospelJingle
Psalmist John My Worship Lyrics
Here we are in his presence
to give him all he loves
and wanted
Nothing so much to you my lover
Nothing so much to you my king
You've got the world in palms
in your cares all in your control
You've got the world in palms
in your cares all in your control
seasons and time in your cares
my now and after you know
seasons and time in your cares
my now and after you know
what you do no man can undo
when you say yes
no man says no
when u bless
no man can curse
The best time in your presence
is my worship and Praise
Chorus
If I give your money
you won't take
If I give you clothe
you won't wear
If I give u food
you won't eat it
take my worship and praises
If I give your money
you won't take
If I give you clothe
you won't wear
If I give u food
you won't eat it
take my worship and praises
If I give your money
you won't take
If I give you clothe
you won't wear
If I give u food
you won't eat it
take my worship and praises
Nothing Nothing so much for God
Nothing so much to you my lover
Nothing so much to you my king
You've got the world in palms
in your cares all in your control
You've got the world in palms
in your cares all in your control
seasons and time in your cares
my now and after you know
seasons and time in your cares
my now and after you know
what you do no man can undo
when you say yes
no man says no
when u bless
no man can curse
The best time in your presence
is my worship and Praise
Chorus
If I give your money
you won't take
If I give you clothe
you won't wear
If I give u food
you won't eat it
take my worship and praises
If I give your money
you won't take
If I give you clothe
you won't wear
If I give u food
you won't eat it
take my worship and praises
Now hear this
If I give your money
you won't take
If I give you clothe
you won't wear
If I give u food
you won't eat it
take my worship and praises
If I give your money
you won't take
If I give you clothe
you won't wear
If I give u food
you won't eat it
take my worship and praises
If I give your money
you won't take
If I give you clothe
you won't wear
If I give u food
you won't eat it
take my worship and praises
my worship Lord unto you
my worship Lord
I give to you
my worship Lord unto you
it shall be
it shall be
it shall be
do not replace me in your kingdom
it shall be
it shall be
do not replace me in your kingdom
Connect with artist:
Facebook: Psalmist John
Instagram: samueljohn8621
My contact: 07047061970