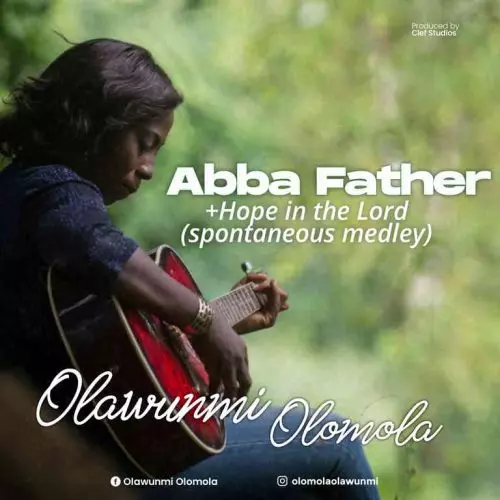 Artist: Olawunmi Olomola
Song Title: Abba Father
Genre: Gospel
Released: 2022
Check-Out this amazing brand new single + the Lyrics of the song and the official music-video titled Abba Father by a Renowned and anointed gospel singer & recording artist Olawunmi Olomola

A song of trust in the Lord. There are those moments when all we can do is just wait (close our eyes), trust and believe unwaveringly in God's goodness with all of the heart. So we lift our eyes and our voice unto Him who can do all things. In Him is strength, grace, hope, healing… and life!
The Lord in turn speaks to our hearts and assures us of His faithfulness. As He reminds us of who He is and invites us to come, rest and drink from Him the fountain of living waters. He is our peace.
"Hope in the Lord" is a spontaneous song that beckons unto us to trust God as the Righteous Judge and to stand steadfast in hope in the face of adversity. Are you facing opposition at work, at home, at school, come what may…? The Lord speaks peace over you!
I pray as you who listen, you shall find comfort, healing and strength.
Stream and Download this amazing mp3 audio single for free and don't forget to share with your friends and family for them to also enjoy this dynamic & melodius music, and also don't forget to drop your comment using the comment box below, we look forward to hearing from you. Thanks!! . #gospeljingle
DOWNLOAD HERE
Olawunmi Olomola Abba Father Lyrics
Verse
Abba Father Abba Father
Who have I on earth but you
The mountaintop that I run to
I trust in you
I trust in you
My Father my God my King
Chorus
Uhh in He flows with mercy
Uh uhh uhh His hands bring favor
In him is strength
In Him is hope
In Him is life
Uhh He flows with healing
Uh uhh uhh His grace abounds
In Him is strength
In Him is hope
In Him is life
Bridge
Who is faithful and dependable
Who delivers
With a strong and mighty hand
Who is powerful
And full of majesty
Who's voice is mighty
Upon the many waters
I am that I am
I am everything
You are believing for
I am that I am
Would you come to me
And I will give you rest
Chorus
Spontaneous Medley
Come on to me
Come my beloved
I can see deep right through you
I can hear your cry for mercy
Please give me your hand
Please give me your trust
I will defend you
I will fight for you
And give you peace
Hope in the Lord
Hope in the Lord
Hope in the Lord