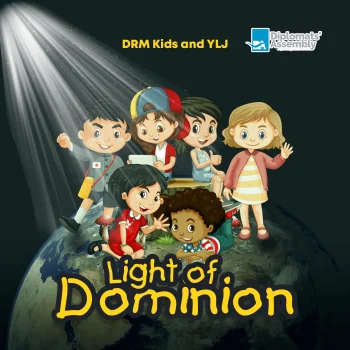 Light Of Dominion MUSIC by DRM Kids & YLJ: Check-Out this amazing brand new single + the Lyrics of the song and the official music-video titled Light Of Dominion mp3 by a renowned & anointed Christian music artist DRM Kids & YLJ

Stream and Download this amazing mp3 audio single for free and don't forget to share with your friends and family for them to be a blessed through this powerful & melodius gospel music, and also don't forget to drop your comment using the comment box below, we look forward to hearing from you. Thanks!! . #GospelJingle
DOWNLOAD HERE
DRM Kids & YLJ Light Of Dominion Lyrics
Verse 1
Two thousand and twenty two
Light of Dominion
Shine it all out
That is my opinion
Genesis 1 verse 28
God shows me all
I've been allowed to dominate
The fish of the sea
The birds of the air
Every creeping living thing on the earth
Oh oh
Been without a problem
Devil can't be near me
Jesus is my fortress
Show 'em
Lovely, ever so enduring
That's the God inside me
Pain all around my body
He Heal 'em
Mountains crumble at the sound of my voice
Jesus's name gives me hope to rejoice
Authority is given
Just to know the how
If you want to dominate
It's time to start now!
-Chorus
We dominate by the blood of the lamb,
And take over by the words of our testimonies,
Having controls by our words declarations,
That's who we are and we are gods. X2
Verse 2a
We sing to the Lord with a high voice
A high voice, a high voice
We dance to the Lord with some new steps
Some new steps, some new steps..
For his good and his merciful
Always ever faithful
Never will he fail us
Verse 2b
Yea yea yea so we dominate
We elevate
We germinate
Like righteous seeds
Drm Kids spreading the Gospel live down & overseas
Papa God na father
So we no go fit to para
His always taking us higher
Higher & higher & higher
End Loop
Yea we dominate over the whole earth.
Over the whole earth.