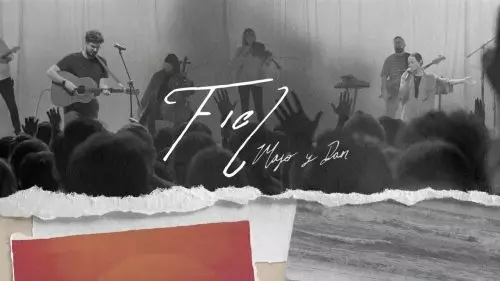 Audio Download Fiel MP3 by Majo y Dan
Artist: Majo y Dan
Song Title: Fiel
Genre: Gospel
Released: 2023
Check-Out this amazing brand new single + the Lyrics of the song and the official music-video titled Fiel by a Renowned and anointed Christian / Gospel singer and recording music artist Majo y Dan whose mission is to be a blessing many people through kingdom music.

Stream and Download this amazing mp3 audio single for free and don't forget to share with your friends and family for them to be a blessed through this powerful & melodius gospel music, and also don't forget to drop your comment using the comment box below, we look forward to hearing from you. Thanks!! . #GospelJingle
DOWNLOAD HERE
Majo y Dan Fiel Lyrics
Fiel
Oh corazón,
encuentra valor,
recuerda los días
de sus maravillas
y presta atención.
Él es Emanuel,
siempre ha estado aquí.
No olvides su pacto,
descansa en su abrazo
y vuelve a decir:
Dios, tú eres fiel,
fiel hasta el final.
Nunca fallarás,
en la tempestad
sé que sigues siendo
fiel.
Y me alegraré
aun en el dolor,
pues soy tu amado
y vivo confiado
en mi Salvador.
Decido creer
que no es el final.
Veré la promesa,
tu gracia y tu fuerza
me acompañarán,
pues tú eres…
Coro
Fiel,
fiel hasta el final
tú nunca fallarás.
En la tempestad
sé que sigues siendo rey,
y por la eternidad
tú nunca cambiarás.
Puedo descansar
en que sigues siendo
fiel.
Puente
///Si lo pierdo todo
pero tengo a Cristo,
sé que tengo todo
lo que necesito.///
Tu eres mi tesoro,
mi mejor amigo.
Yo sé que tengo todo
si tú estás conmigo