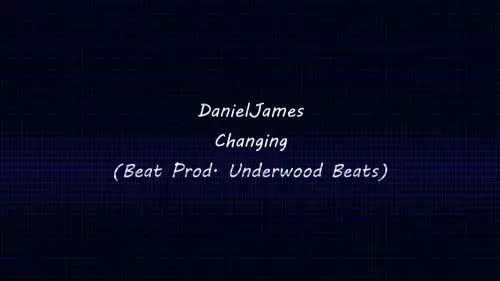 Audio Download Changing MP3 by DanielJames Check-Out this amazing brand new single + the Lyrics of the song and the official music-video titled Changing by a mulitple award winning hip hop recording artist DanielJames who is known for releasing amazing song that will get you exited and elevate your mood with it's vibe, catchy hook and incredible production.
Song Title: Changing
Artist: DanielJames
Genre: Hip Hop
Released: 2023

Stream and Download this amazing mp3 audio single for free and don't forget to share with your friends and family for them to also enjoy this dynamic & melodius music, and also don't forget to drop your comment using the comment box below, we look forward to hearing from you. Thanks!! . #gospeljingle
DanielJames Changing Lyrics
We've come closer than we wanted,
We've seen what we never should
And we will not be the same.
We'll never be the same, no.
Like steel we are so resilient,
But too much and we're weak as children.
We were not meant to be
Made witness to these scenes, no.
Oh oh
Oh oh
Gunshots in a broken palace,
Planes crashing and burn around us
It's different than it ever was, darker than it's ever been
Three shouts and thank God I found you
With the crowd and the fog around you I'll never let you fall,
I'll never let you fall
Oh Heaven can you hear us
Right now we are not sure
But I hope it will get better
These times we're in together,
They're changing us forever
Two kids in a crooked alley, school canceled again
And now they won't learn a single lesson
Except how to load a weapon
And right here on this old soil
We hope for peace and we pray for joy
But like everybody else
We're still fighting with ourselves
Oh heaven can you hear us
Right now we are not sure
But I hope it will get better
These times we're in together,
They're changing us forever
Oh heaven can you hear us
Right now we are not sure
I hope it will get better
These times we're in together,
They're changing us forever
Oh heaven can you hear us
Right now we are not sure
But I hope it will get better
These times we're in together, they're changing us forever
Oh heaven can you hear us
Right now we are not sure
I hope it will get better
These times we're in together,
They're changing us forever