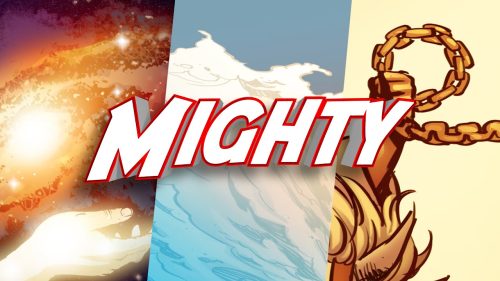 Audio Music Download Beckah Shae – Mighty MP3 by Beckah Shae
Check-Out this amazing brand new single + the Lyrics of the song and the official music-video titled Mighty by a Renowned and anointed Christian / Gospel singer and recording music artist Beckah Shae whose mission is to be a blessing many people through kingdom music.
Song Title: Mp3 Beckah Shae Mighty FREE DOWNLOAD Mighty by Beckah Shae
Genre: Gospel
Released: 2016
Duration: 03:29

Stream and Download this amazing mp3 audio single for free and don't forget to share with your friends and family for them to be a blessed through this powerful & melodius gospel music, and also don't forget to drop your comment using the comment box below, we look forward to hearing from you. Thanks!! . #GospelJingle
Beckah Shae Mighty Lyrics
Verse 1
Mighty all the time
He never takes a break, He's always right
Working all day and every night
Mighty all the time
He never shifts at all; He stays the same
He'll never ever change
Mighty all the time
He's always on the throne, it's where He rules
Forever ancient, forever new
Mighty all the time
His power never ceases, to amaze me
And it's everlasting
Pre Chorus
Oh He is so mighty
So mighty
He is so mighty all the time
Chorus
Who could place the stars in the heavens
And call each and every one by name?
Yeah He is so mighty!
Who knows every single thought that's in your mind
No one but Him, Mmmhmm, that's right
Yeah because He's mighty!
Who can move a mountain, split the sea in two
Or make it rain or shine
Or turn the darkness into light?
Only God Almighty
He'll take a nation down, and raise it up again
With one hand, then have a party
He can, cause yeah, he's so mighty
Verse 2
Mighty all the time
He's the one who saves, He's is in our midst
Rejoicing over us with gladness
Mighty all the time
He knows everything, He see's it all
To Him nothing's impossible
Mighty all the time
He established the whole world, created every boy and girl
And He's got a plan, yeah
Mighty all the time
His glory never ceases to amaze me
Bridge
BAM!
He's better than a superhero
Cause He ain't limited on power
BOOM!
He's stronger than the bravest warrior
Makes even the darkest villains cower
Bang! Bang! Boom! Pow! Yo check Him out!
There ain't nobody like Him
Cause He's so mighty