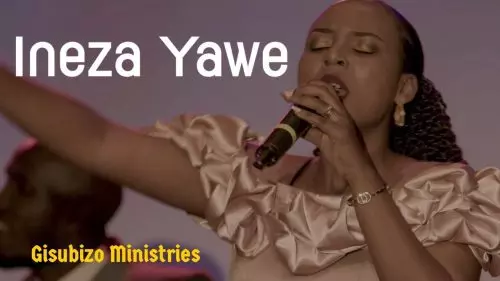 Audio Download Gisubizo Ministries MP3 by Ineza Yawe
Song Title: Gisubizo Ministries
Artist: Ineza Yawe
Genre: Gospel
Released: 2023
Check-Out this amazing brand new single + the Lyrics of the song and the official music-video titled Gisubizo Ministries by a Renowned and anointed Christian / Gospel singer and recording music artist Ineza Yawe whose mission is to be a blessing many people through kingdom music.

Stream and Download this amazing mp3 audio single for free and don't forget to share with your friends and family for them to be a blessed through this powerful & melodius gospel music, and also don't forget to drop your comment using the comment box below, we look forward to hearing from you. Thanks!! . #GospelJingle
Ineza Yawe Gisubizo Ministries Lyrics
Ineza yawe, imbabazi zawe , bizanyomaho iminsi yo kubaho kwanjye
Your kindness, your mercy, will be with me all the days of my life
Kuko ariwowe mugabane wanjye, igihome ki nkingira ibyago byose
For you are my portion, a fortress that protects me from all danger
Abagufite ntibazakena kuko bakwiringiye, Mana we
Those who have you will not be in want because they trust in you oh GodKuko ariwowe buhungiro n'urutare nubatseho, Mana we
For you are my refuge and a rock on which I am built, Oh God.
Niwowe uduha imbaraga, niwowe twizera mubikomeye, niwowe twisunze Mana
You are the one who gives us strength, you are the one we trust in trials, you are the one we rely on oh God
Niwowe, niwowe, niwowe, Mana we
It's you, it's you, it's you, it's you, Oh God
Ni wowe, wo kwizerwa, ushoborabyoseuhambaye, Ni wowe, Mana we
It's you, it's you, the faithful one, the Almighty and great, it's you, oh God.
Ntawundi, ntawundi, Ntawundi, ntawundi, Mana we
No one else, no one else, no one else, no one else, oh God.