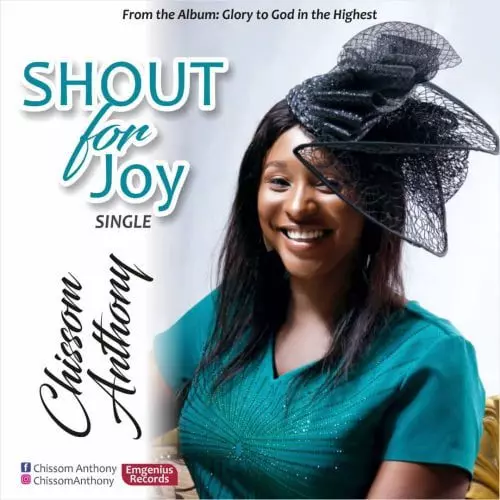 Shout For Joy MUSIC by Chissom Anthony: Download this amazing brand new single + the Lyrics of the song and the official music-video titled Shout For Joy mp3 by a renowned & anointed Christian music artist Chissom Anthony

This new song "Shout for Joy" moments will echo everywhere in the weeks following the release of this new video. The Bible says " in the presence of God there is fullness of joy " and Chissom Anthony has helped us with this track towards experiencing this biblical promise. Now she has taken this to a whole new level with an excellent video.
Watch MUSIC VIDEO below
Stay blessed as you stream and Enjoy this amazing mp3 audio single for free
DOWNLOAD HERE
DOWNLOAD MP3 SONG
DOWNLOAD HER FULL ALBUM TITLED: GLORY TO GOD IN THE HIGHEST HERE
Chissom Anthony Shout For Joy Lyrics
[Chorus]
Jesus my savior …….oh
My Redeemer…….oh
My Defender…….oh
Rose of Sharon…..oh
Balm of Gilead ………..oh
Rock of Ages……..oh
Thy will be done
[Verse 1]
Shout for joy
Glory to our most high God
Lift your hands
Praises to our Lord "hallelujah"
Jesus reigns
Glory to our king of kings
Raise your voice
Bless his awesome name
CHORUS 2x
[Verse 1]
Dance for Joy
Honor to our most high God
Lift your voice
Praises to our king "hallelujah"
Jesus Reigns
Glory to our Lord of Lords
Raise your hands
Bless his holy name
REPEAT CHORUS 2x
About Artist:
Chissom Anthony has given us something to shout about, literally. Her latest track titled ''Shout for Joy'' has blessed so many since it's first release. Now, she is giving visuals to this soul stirring and exciting track. The song precipitates atmosphere of joy mingled with hope whenever it is played.
Chissom Anthony is a well known gospel singer whose name is becoming a house hold name in gospel music arena. Since she began her ministry as a gospel artist, her story has been one of ever increasing glory and grace. Chissom hails from Anambra state, Nigeria in Orumba North LGA. She is a graduate of Accounting from the prestigious Nnamdi Azikiwe University, Awka and has worked in some Nigerian banks notably GTB and First Bank before the spiritual call into gospel music ministry . The ex- banker turned gospel minister has written songs with great lyrical content and has blessed lives with lovely tunes that could have only come from Heaven. She is happily married and blessed with wonderful kids.
We will shout for joy even as we await the soon return of our Lord and savior, Jesus Christ.
Connect with artist on
Twitter : @chissomanthony  
Instagram: @chissomanthony
Facebook page: Chissom Anthony